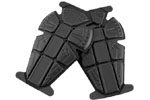 Core-Comp Armor - Armor made up of energy absorbing polystyrene cells sandwiched between layers of foam rubber then sealed in an abrasion resistant ballistic nylon. This is a very advanced style of CE approved armor.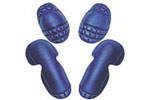 Dual Density Armor - This is the cheapest and most common form of armor. As the name indicates there are two separate densities of foam sandwiched together. The difference in firmness between the two types of foam helps make the armor more versatile in protecting the rider from different types of impact.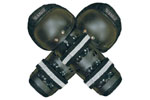 Hard GP Armor - Comprised of hard plastic shells mounted on foam, GP Armor is good at resisting hard impacts. It is used mainly in gear designed for motorcycle racing. Vanson has a derivative of the GP Armor that is secured with Velcro mounted on elastic to allow the armor more mobility, which adds comfort for the rider.
Memory Foam Armor - This armor is made from special purpose foam that is soft and pliable when compressed slowly but on sudden impact the foam resists compression and is more rigid. This allows for a more natural and comfortable protection and superior freedom of movement while still maintaining good crash protection.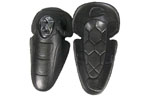 Molded Rubber Armor - This armor is often nicknamed "turtle shell" because of its resemblance to the aquatic creature. It is generally longer and more oval shaped than other styles of armor which can make it harder to fit into average armor pockets.
Tri-Armor -The result of a four-year German study, Tri-armor is CE approved armor made up of a plastic membrane sandwiched between layers of dual density memory foam. This is an advanced armor that balances impact resistance, abrasion resistance and comfort.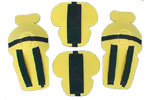 Vanson Street Armor - Soft foam armor that is fixed in the jacket by velcro instead of slipping into mesh pockets. This armor is designed to allow greater freedom of movement.